O2
will be offering 4 new phones in April: the
HTC Desire S
,
Sony Experia Arc
and the
Sony Experia Play
, which is notable for it's Playstation-centric store/interface plus a slding gamepad featuring analog and digital joysticks. Could be quite popular. There is also a tablet on its way.
T-Mobile
have announced the imminent arrival of the
LG Optimus Black
to their network. A nice looking and very slim Android phone but single core only.
Vodafone
has the largest selection of coming soon Android phones at time of writing this article:-
Samsung Galaxy S II
- sequel to the highest selling Android phone to date - the Samsung Galaxy S.
HTC Desire S
- arguably the most popular model from HTC gets a refresh. HTC has the most disappointing 2011 smartphone lineup of all the big players, due to their contract with Qualcomm. Qualcomm is taking it's time bringing its own dual core mobile CPU to market, so no HTC phones announced at Mobile World Congress feature a dual CPU. However, Qualcomm's
MSM8660
has two Scorpion cores clocked at 1.2GHz and the Adreno 220 GPU so they could end up having the last laugh.
Samsung Galaxy Tab 10.1
- the honeycomb tablet from Samsung.
The Sony Experia
Play
,
Arc
and
Neo
-which the full complement of new Sony Android phones.
Samsung Nexus S (available now from
Carphone Warehouse
. )
Three
is, at time of writing, the only carrier offering the
LG Optimus 3d
, which recieved some stunning benchmark results over at
Anandtech
. Set to arrive in June.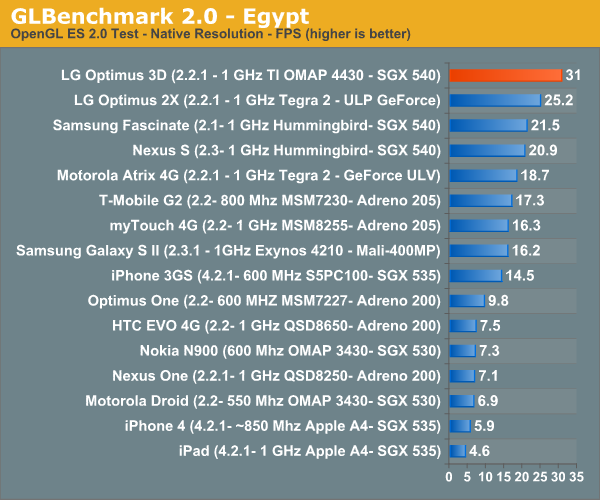 The OMAP4 / SGX 540 seems to be the dual CPU/GPU combination to beat right now.
Three is also offering
Experia Arc and Play
, along with
HTC Desire S
in April. The
Samsung Galaxy SII
in May.
UPDATED: 4th March 2010 - Nothing of note has appeared on
Orange
's website as yet, so I can't report anything in regards to what they will have on offer later in the year. Suffice to say that as of yet, the
Motorola Atrix 4G
has not been announced for any UK network yet.